Mousse might have been a concoction invented by the French, but its popularity now is world-wide. This light fluffy dessert can give your taste buds a sure relish and once tasted, you have the risk of turning into a sure addict. There have been different variations of mousse both in texture and flavors which have been tried and tested by pastry chefs across the world, but chocolate still remains the popular choice.
The original chocolate mousse earlier prepared as a specialty in French restaurants have given way to a whole range of other flavors like strawberry, vanilla, mocha, pistachio, pumpkin, lemon etc, just to name a few. Also, the consistency might vary from thick and frothy to light and fluffy, to creamy, depending on the preference. Whatever the flavor or texture, this is one dessert which you don't want to waive off to save your waistline.
Although chocolate is the preferred flavor of mousses, you can use any number of variations of your choice.
The below recipe serves eight portions and uses fresh strawberries which gives the dessert it a delectably, tangy flavor. But if fresh strawberries are not in season, you can use strawberry syrup instead.
Preparation time: 20 minutes
Chilling time: 3-4 hours
Difficulty level: Easy
You will need :
4-5 egg whites, 400 gm (4-5 cups) fresh strawberries,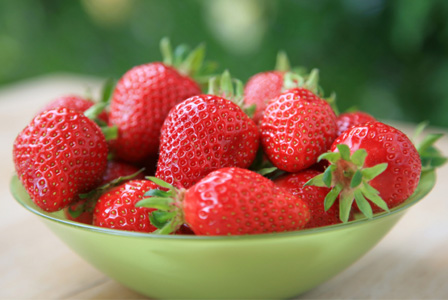 1 ½ cup cream (double cream should be used as skimmed variety won't give a good texture.)
Castor Sugar (you need to use superfine or caster sugar for this recipe. If you don't have caster sugar readily available, you can blend granulated sugar in a processor till it reaches a superfine texture. It gives you the same consistency as caster sugar. You should keep in mind that there should not be any granules or powder in the mixture.)
Whip the cream using an electric blender until it forms supple peaks. You can set aside a few dollops for garnishing.
Wash and cut all the strawberries into small chunks and blend well in a blender till a thick puree is formed. Run the puree through a strainer and keep aside. Keep aside a few of the strawberry chunks to add as garnishing.
Mix the egg white and the sugar until it forms a thick meringue. Add the strawberry puree and mix all the ingredients together.
Now pour the whipped cream on to the above mixture and fold the ingredients together lightly without using any force.
Use a ladle spoon and scoop the mixture into 8 stemmed glasses or molds, (freezer safe) and top it with the extra strawberries and cream.
Put the glasses inside the freezer to chill for 3-4 hours and delightful dessert is ready to be relished.
photo courtesy: Martha Stewart